About Us
Powers Compounding Pharmacy is a compounding pharmacy that has been serving O'Fallon, MO, since 2011. We offer a wide range of services customized to help you meet all of your medical needs, including compounding, delivery, durable medical equipment and more.
Our Mission
Your wellbeing is our top priority and we strive to ensure you're feeling confident and comfortable by answering all of your questions. Make Powers Compounding your pharmacy, and experience the difference individual and genuine care will make in your healthcare experience.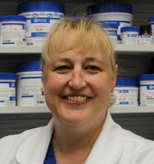 Sharlene Powers, RPH
Sharlene has a Bachelor's in Science Degree from St. Louis College of Pharmacy and has over 25 years of experience in retail and compounding pharmacy. Sharlene is passionate about caring for her patients and meeting their healthcare needs as a resource for information. She loves spending time with her family and fur babies. When time allows, she enjoys playing the violin and crafting.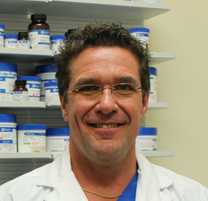 Randy Powers, RPH, FAARM, ABAAHP
Randy has a Bachelor's in Science Degree from the St. Louis College of Pharmacy and is a Certified Specialist in Hormone Therapy and Pharmacogenetics/Nutrigenomics. He feels that a person's health and wellbeing is a combination of body, mind, and spirit. Randy has had several certifications in compounding with PCCA and has been in a pharmacy setting for over 25 years, compounding and retail. His love for knowledge has taken him to get a fellowship in functional and anti-aging medicine and he continues to use that knowledge to better the patients' welfare. He has a wonderful family who has been a great support system to his work. Randy loves pets, running, weight lifting, going to the movies, hiking with his dog, and meditating.
Bennett McCormick, Pharmacy Technician
Bennett is a licensed pharmacy technician at Powers Compounding Pharmacy. He has been working with the Powers for 9 months. Bennett applied at Powers because he wanted to do a job where he was making a difference and helping people. He enjoys interacting with the customers and making sure all customer's needs are met. In Bennett's free time, he enjoys playing the marimba, ukulele, and reading.
Rhiannon Schaeffer, Pharmacy Technician
Rhiannon is a licensed pharmacy technician that has been with the Powers family for over 5 years. She enjoys to compound and make all of the various medications that are offered at the pharmacy along with learning new things. Rhiannon is a fast pace learner and is very organized. Her favorite time of year is the holiday seasons, she loves being with her family, crafting, and going to the pool.
Katie Farner, Pharmacy Technician
Katie is a licensed pharmacy technician who has been with Powers for 6 months. Her favorite part about being a Pharmacy Technician is working alongside the Pharmacists and other Technicians to assist patients with their medication needs. She enjoys meeting and getting to know our patients. Katie is a fast learner and is growing her knowledge in compounding. She loves spending time with her family, camping, traveling, and playing tennis.
Conner Walkenhorst, Pharmacy Technician
Conner has been with Powers for 2 years and loves working here as a Pharmacy Technician. One of his favorite parts about being a Technician is working in the Compounding Lab and learning how to make a new medication. Conner is a hard worker and keeps up with the pharmacist to get medicine made in a timely manner. He enjoys Powers because of their love for the community and the patients here at Powers. Conner is a combat veteran, and his interests include hanging out with his friends and gaming.